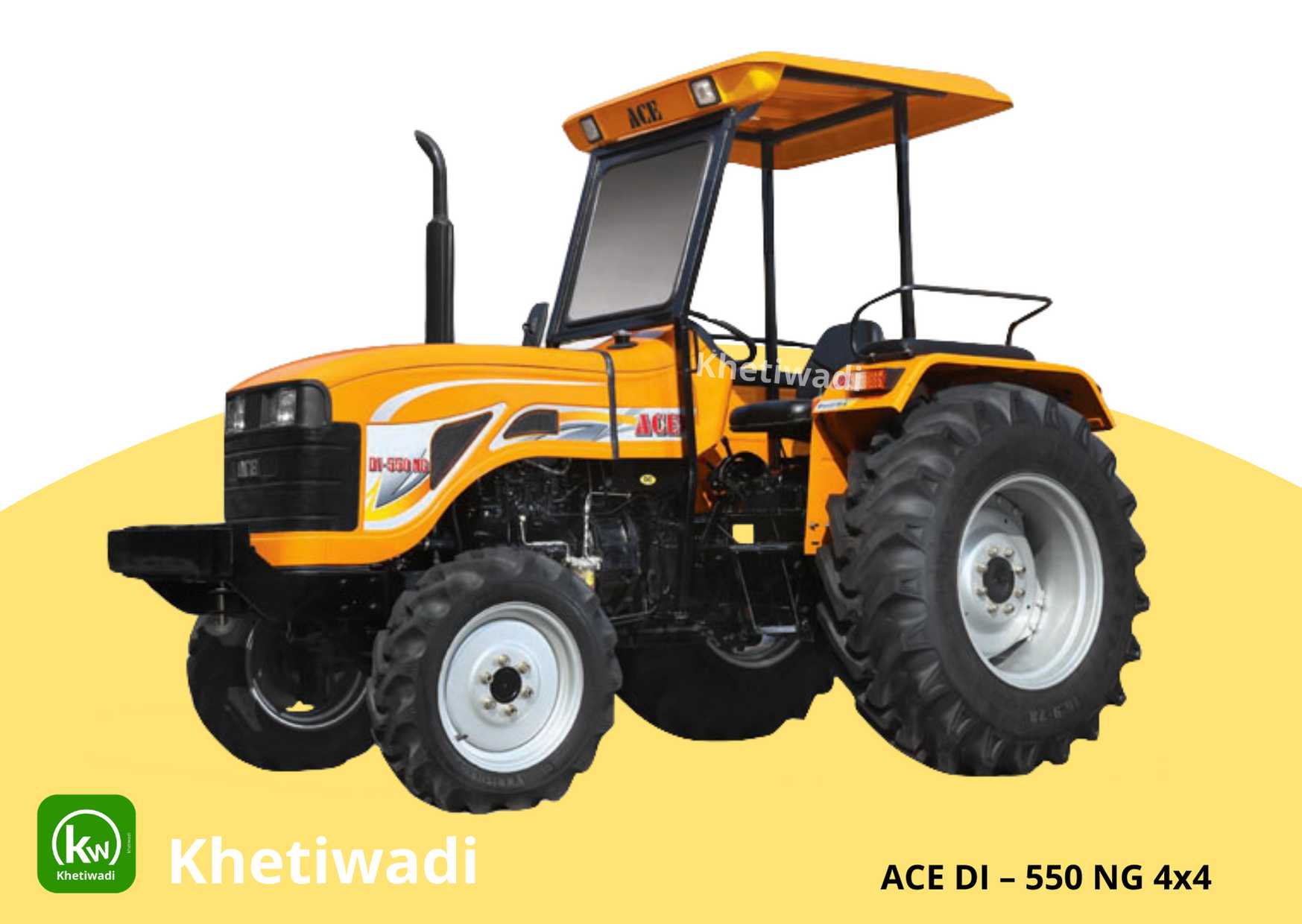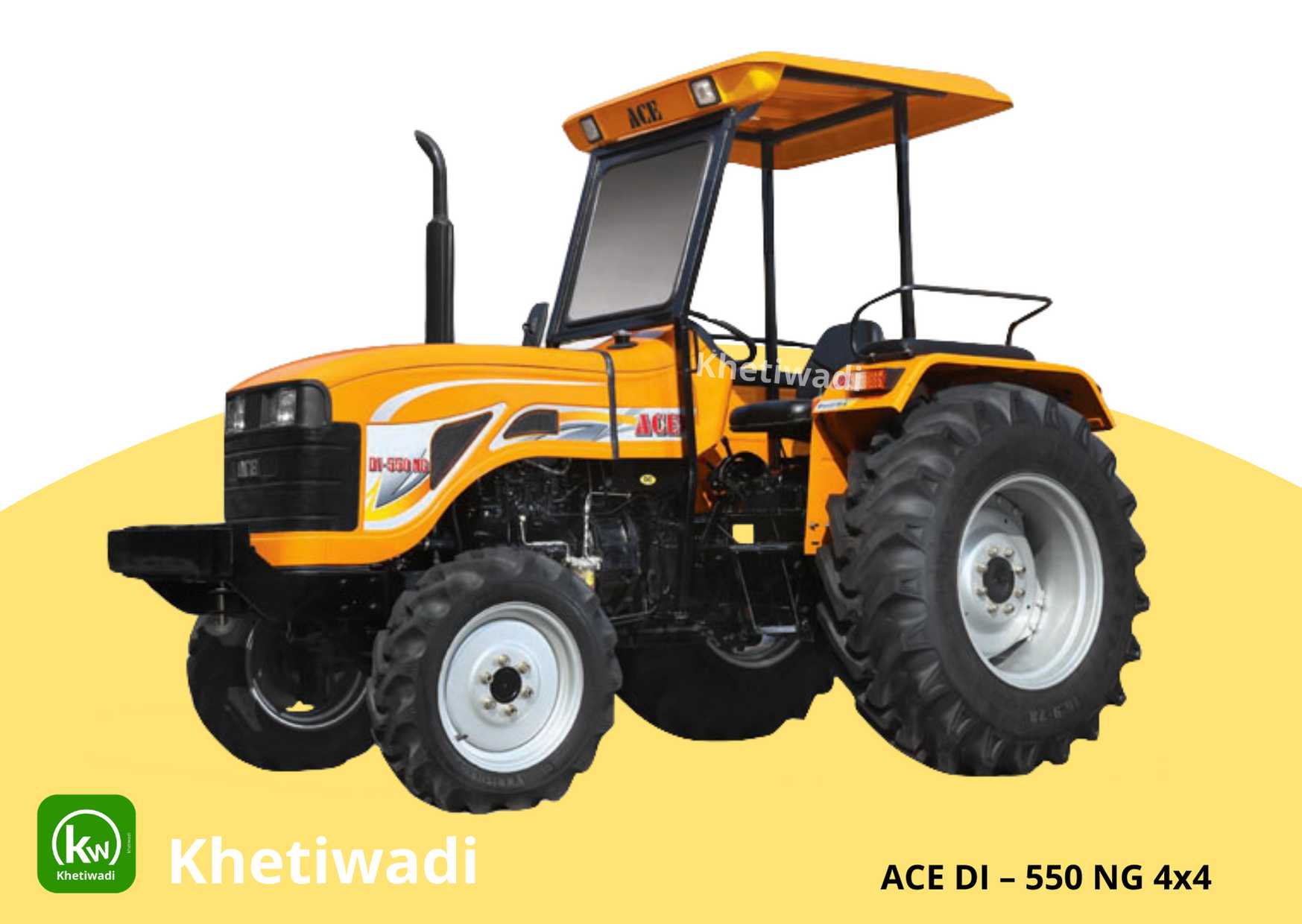 ACE DI – 550 NG 4x4
Price : ₹ 8,15,450 - ₹ 8,45,550
Engin Power : 50 HP PTO Power : 43 HP Gears : Forward Gears : 8 Reverse Gears : 2 Type of Steering : Power / Mechanical Steering Type of Brakes : Oil Immersed Lifting Capacity : 1800 kg
ऐस डीआई 550 एनजी 4डब्ल्यूडी 50 एचपी श्रेणी का ट्रैक्टर है जिसमें 2100 के रेटेड आरपीएम पर 3 सिलेंडर 3065 सीसी इंजन है। एसीई डीआई 550 एनजी 4डब्ल्यूडी ड्राई टाइप एयर फिल्टर और वाटर-कूल्ड कूलिंग सिस्टम के साथ आता है। एसीई डीआई 550 एनजी 4डब्ल्यूडी 8 फॉरवर्ड और 2 रिवर्स गियर विकल्पों के साथ कॉन्स्टेंट मेश गियरबॉक्स से लैस है। ACE DI 550 NG 4WD 6 स्पलाइन टाइप PTO के साथ 540 की गति के साथ आता है। उन्नत हाइड्रोलिक्स स्वचालित ड्राफ्ट नियंत्रण और नियंत्रण वाल्व और ACE DI 550 NG 4WD ट्रैक्टर के 22 PTO HP के साथ। ACE DI 550 NG 4WD मैकेनिकल या पावर स्टीयरिंग विकल्पों से लैस है, जिससे ऑपरेटर को ट्रैक्टर चलाना आसान हो जाता है। ACE DI 550 NG 4WD डिजाइन में मजबूत है और बेहतर स्थिरता के साथ आता है। ऐस डीआई 550 एनजी 4डब्ल्यूडी का वजन 2240 किलोग्राम है। यह वजन आपके पसंदीदा ट्रैक्टर को चुनने के लिए वर्गों की तुलना करने में मदद करता है। ऐस डीआई 550 एनजी 4डब्ल्यूडी 4 डब्ल्यूडी में आता है।

The Ace DI 550 NG 4WD is a 50 hp range tractor with a 3 cylinder 3065 cc engine at 2100 rated rpm. Th...
e ACE DI 550 NG 4WD comes with a dry type air filter and water-cooled cooling system. The ACE DI 550 NG is equipped with a Constant Mesh gearbox with 4WD 8 forward and 2 reverse gear options. The ACE DI 550 NG 4WD comes with a 540 speed with a spline type PTO. Advanced Hydraulics with automatic draft control and control valves and 22 PTO HP of ACE DI 550 NG 4WD tractors. The ACE DI 550 NG 4WD is equipped with mechanical or power steering options, making it easy for the operator to drive a tractor. The ACE DI 550 NG 4WD is robust in design and comes with improved stability. The Ace DI 550 NG 4WD weighs 2240 kg. This weight helps to compare squares to choose your favorite tractor. The Ace DI comes in 550 NG 4WD 4WD.
---
ACE DI – 550 NG 4x4 Specifications
ENGINE Specification
Horsepower (HP)
50 HP
Engine Capacity in cc
3065 cc
Engine RPM
2100 RPM
Cylinder
3
Air Filter
Dry type
Cooling Type
Water Cooled
TRANSMISSION Specifications
Clutch
Dual
Type of Transmission
Constant Mesh
Forward Speed
2.50 – 32.5 kmph
Reverse speed
3.8 – 13.7 kmph
No of Forward Gears
8
No of Reverse Gears
2
BRAKES Specifications

More tractors by ACE Tractors

Type of Brake
Oil Immersed
Turning radius with brake
4380 mm
STEERING Specifications
Type of Steering
Power / Mechanical Steering
Steering Adjustment
NO
PTO POWER Specifications
Type of PTO
6 Spline
PTO RPM
540
PTO POWER in HP
43 HP
FUEL TANK Specifications
FUEL TANK Capacity(Liters)
57 liters
DIMENSION AND WEIGHT
Weight
2240 kg
Wheelbase
NA
Overall Length
3790 mm
HYDRAULICS Specifications
Lifting capacity
1800 kg
TYRE SIZE Specifications
Front Tyres
8 X 18
Rear Tyres
14.9 X 28
Drive Type
Drive type
4WD
WARRANTY
Warranty
2000 Hours / 2 year
---
This website belongs to farming and farming machinary. Created and Managed by khetiwadi development team. Content owned and updated by khetiwadi.
Copyright © 2020 KHETIWADI. All Rights Reserved.
---