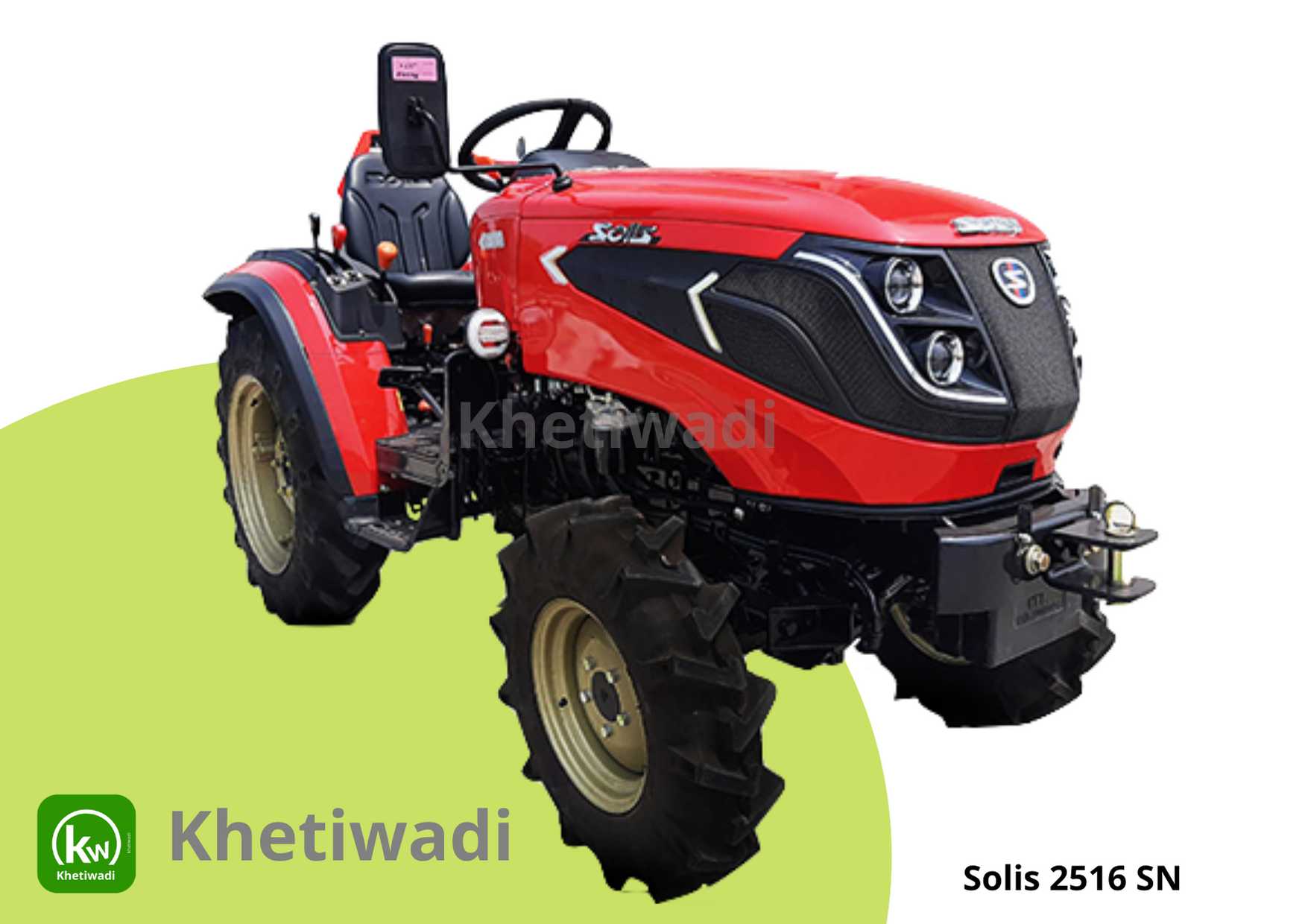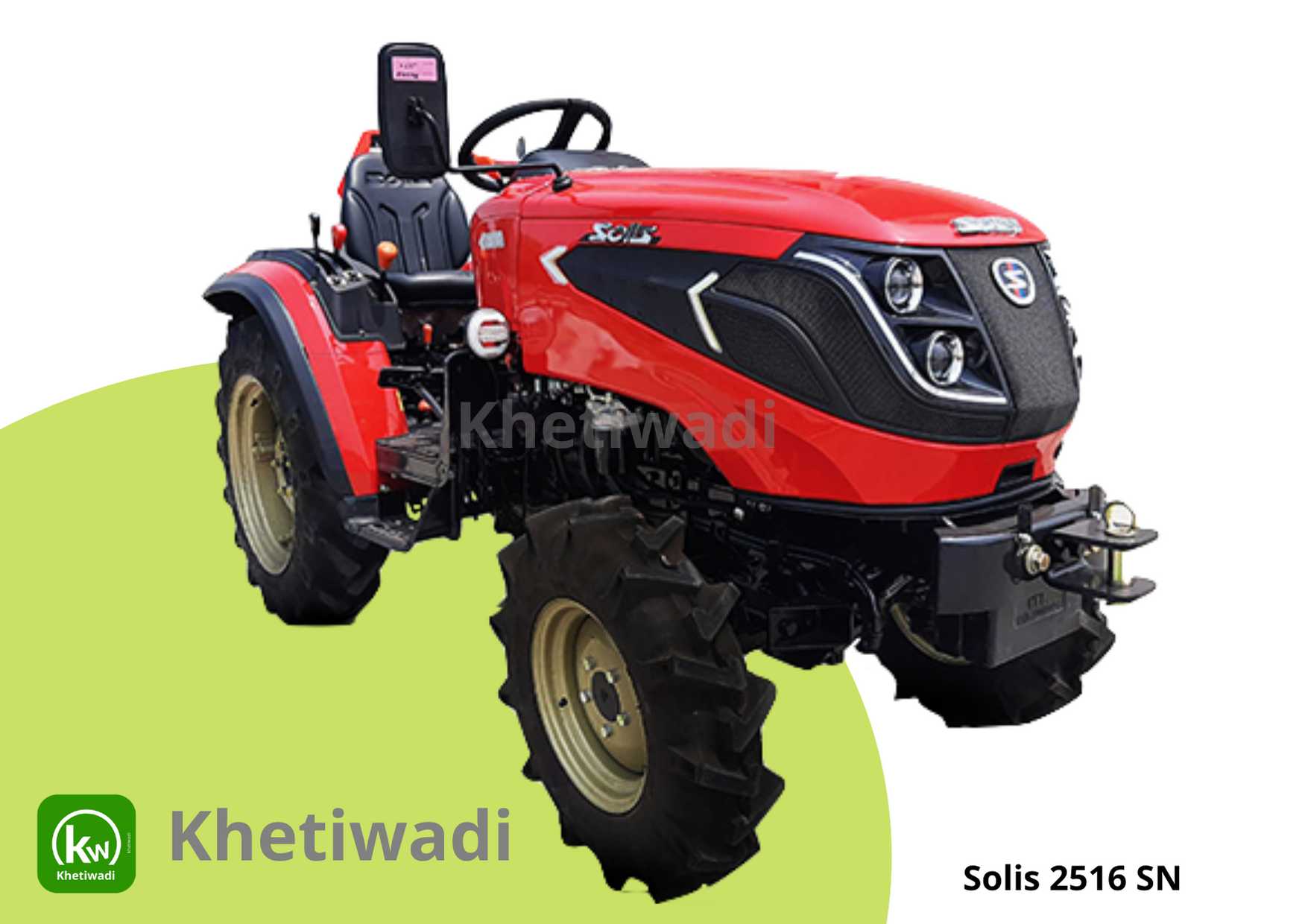 Solis 2516 SN
Price : ₹ 5,00,000 - ₹ 6,00,000
Engin Power : 27 HP PTO Power : 23 HP Gears : Forward Gears : 12 Reverse Gears : 4 Type of Steering : Mechanical Steering Type of Brakes : Multi Disc Outboard OIB Lifting Capacity : 600 kg
Overview
The Solis 2516 is a 3-cylinder powerful engine tractor that generates 27 horse power Its key features are a constant-mesh transmission, power steering and oil-immersed brakes. The Solis 2516 tractor is easy to operate and can be used in over almost 30 applications, including haulage. Solis 2516 is versatile and durable and is commonly used in crops such as rice, wheat, sugarcane, and other crops. It has a lifting capacity of around 600 kilograms which is suitable for various types of equipment such as rotavators, cultivators, ploughs, planters and others.

High PTO power helps in smooth functioning of any implementation and also helps in carrying the supplements back and forth.
Smart front grille with projector lamp and LED guide light for increased night vision and better working efficiency
Instrument cluster to keep the driver informed of speed, distance, heat and fuel while driving
Japanese...
technology assisted power steering helps you avoid all bumps and keeps your hands tired
Side Shift Gear Mechanism For All Applications
---
Solis 2516 SN Specifications
ENGINE Specification
Horsepower (HP)
27 HP
Engine Capacity in cc
1318 cc
Engine RPM
2700 RPM
Cylinder
3
Air Filter
Dry type
Cooling Type
NA
TRANSMISSION Specifications
Clutch
Single Clutch
Type of Transmission
NA
Forward Speed
19.1 kmph
Reverse speed
16.1 kmph
No of Forward Gears
12
No of Reverse Gears
4
BRAKES Specifications

More tractors by Solis Tractors

Type of Brake
Multi Disc Outboard OIB
Turning radius with brake
NA
STEERING Specifications
Type of Steering
Mechanical Steering
Steering Adjustment
NO
PTO POWER Specifications
Type of PTO
6 Spline
PTO RPM
540, 540E
PTO POWER in HP
23 HP
FUEL TANK Specifications
FUEL TANK Capacity(Liters)
28 liters
DIMENSION AND WEIGHT
Weight
910 kg
Wheelbase
1565 mm
Overall Length
2705 mm
HYDRAULICS Specifications
Lifting capacity
600 kg
TYRE SIZE Specifications
Front Tyres
6 X 12
Rear Tyres
8.3 X 20
Drive Type
Drive type
4WD
---
This website belongs to farming and farming machinary. Created and Managed by khetiwadi development team. Content owned and updated by khetiwadi.
Copyright © 2020 KHETIWADI. All Rights Reserved.
---